Machines for the chocolate processing and feeding industry

Back to temperingmachines
---
Temperingmachine TM80
The moulding and tempering machine TM80 is equipped with a storage tank from +/- 80 kg. chocolate. In this tank, the chocolate will be heated to a temperature on to +/- 40°C. Below thid tank, a chocolate pump is placed. This pump pumps the chocolate to a special designed tempering cylinder. In this cylinder, the chocolate will be mixed and cooled down onto the wanted temperature. After the tempering cylinder , the chocolate comes out of the machine, and you can use the chocolate immediately.
The maximum tempering capacity: +/- 200kg/h
Pump capacity: +/- 700kg/h
The construction is complete made of stainless steel. The targeting of the machine happens with plc and a touch-screen or with link buds.
Enrobe system (enrobe 40 cm)
On the tempering- mouldingmachine TM80 we placed a conveyor belt which has the possibility to cover all the products with chocolate. The conveyor belt is provide with blowing system, a tail cutter and all belonging to accessories for creating a chocolate bath, and a chocolate curtain. The speed of the conceyor belt and the ventilator of the blowing system are adjustable. To keep a constant temperature there are two heaters which are adjustable and placed into a plastic cover. The construction has been manufactured from stainless steel. The controlling of the conveyor belt takes place on the TM80 and all engines and steering are integrated in the tempering machine. The machine is controlled by push buttons.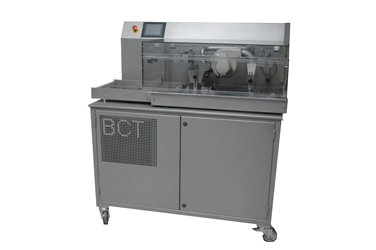 ---
Belgian Chocolates Technology
Slachthuisstraat 30 bus 11
B-2300 Turnhout
Belgium
'Tel: 0032(0)14 / 61 98 05
7Fax: 0032(0)14 / 61 04 50
; www.bctnv.be
---