Machines for the chocolate processing and feeding industry

Back to moulding- and temperingmachines
---
The moulding and tempering machine MBT50 has a storage tank covered with a silicone heating layer with a capacity to maintain +/- 50 kg. liquid chocolate at his temperature. The temperature (40°C - 45°C) of the chocolate is constant, thanks to a robust stir wheel. This temperature is adjustable and it is vivible on a digital screen. At the bottom of the storage tank the chocolate gets pumped with a gear pump in the tempering cylinder.-, where it's cooled and blended. At this point the ideal temperature is reached. This temperature is adjustable by the user and is depentable of the different type of chocolate that is used. The tempered chocolate flows trough a depositing head, back into the storage tank, contains a constant quality. In the storage tank the chocolate is reheated it never gets over tempered. The construction is completely made of materials which are corrosion free and easy to clean. The transmission of the machine is accomplished by push buttons. This machine is perfect for moulding by hand.
The maximum take away amounts from: 80 - 100 kg/h.
The capacity of the integrated pump is +/- 600 kg/h.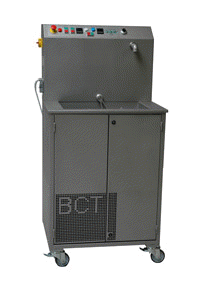 ---
Belgian Chocolates Technology
Slachthuisstraat 30 bus 11
B-2300 Turnhout
Belgium
'Tel: 0032(0)14 / 61 98 05
7Fax: 0032(0)14 / 61 04 50
; www.bctnv.be
---