Machines for the chocolate processing and feeding industry

Back to interior closing machines
---
FB40 Interior dosing machine
The FB40 is an interior dosing machine that all interiors treats who can injected. All movements are sent by means of PLC and servo-engines, so that a maximum of flexibility is offer. The machine standard has equipped with 2 heated and thermoststically regulable stock barges with contents of 40 litres each. The temperature of these stock barges is regulable and using an electronic corrector. Trough the specific construction and the use of servo- engines, a very high exactitude is reached. When special forms are used it's even possible to make hand made pralines with a spouted foot (manon). The machine has standard 1 spray beam wit 8 pistons and 2 needle plates with respectively 7 and 8 nipples.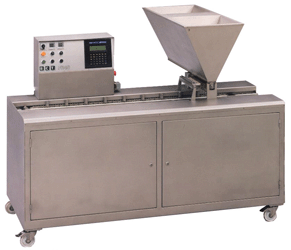 √ Form format: 275x135x25 (30)
√ Capacity: 40 battles/minute on average (10-15 forms/minute)
√ The machine is entirelly built from stainless steel
Options: √ Beam with 10 pistons
√ Plates with respectively 6,9 or 10 nipples.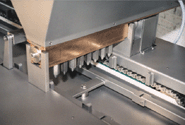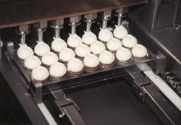 Detail of nipples injection of the filling filling of manons
---
Belgian Chocolates Technology
Slachthuisstraat 30 bus 11
B-2300 Turnhout
Belgium
'Tel: 0032(0)14 / 61 98 05
7Fax: 0032(0)14 / 61 04 50
; www.bctnv.be
---