Machines for the chocolate processing and feeding industry

Back to combinations
---
TM80 with travelling belt and cooling tunnel
The moulding and tempering machine TM80 is equipped with a storage tank from +/- 80kg. chocolate. In this tank, the chocolate will be heated to a temperature onto +/- 40°C. Below this tank, a chocolate pump is placed. This pump pumps the chocolate to a special designed tempering cylinder. In this cylinder, the chocolate will be mixed and cooled down onto the wanted temperature. After the tempering cylinder, the chocolate comes out of the machine, and you can use the chocolate immediatly. The targeting of the machine happens with PLC and a touch-screen or with link buds.
On the tempering and moulding machine TM80 we placed a conveyor belt which has the possibility to cover all the products with chocolate. The conveyor belt is provide with a blowing system, a tail cutter and all belonging to accessories for creating a chocolate bath, and chocolate curtain. The speed of the conveyor belt and the ventilator of the blowing system are adjustable. To keep a constant temperature there are two heaters which are adjustable and placed into a plastic cover. The construction has been manufactured from stainless steel. The controlling of the conveyor belt takes place on the TM80 and all engines are integrated in the tempering machine.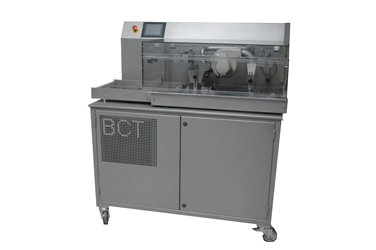 Link chilly tunnel with effective cooling length of 10m. (also tailored made)
The link chilly tunnel has a ba,d width of 400mm and has an effective cool length of 10m., an import length of +/- 1m. and azn export length of +/- 0.5m.. A separate piece which can be detached will be foreseen at the back to get the products beautiful loose of the link. Because of the exceptionel construction there will be a double refrigeration realized, what means there will be a refrigeration beneath and one above present in this tunnel. The cooling above is foreseen with a radiation refrigeration because the cold air won't come directly on the product. The construction is completely made of stainless steel and on top of the tunnel there will be isolated polyester heads placed.
Technical specifications:
- Band width: 400mm
- Type of band: 1-layer
- Total length: 12500mm
- Cooling length: 10000mm
- Import lenght: 1000mm
- Export lenght: 500mm
- Lenght of detaching piece: 1000mm
- Heads: polyester
- Each head can be put up and it's possible to take them off
- Scraping knife places on the band to keep it clean
- Pneumatic band targeting front and back
- In the front there is a passage with passaging knife
- At the back there is a passage with the help of a role diameter 80
- Traction with the help of a traction role +/- 300ø, hold with antiskid material
- The detaching piece will be realized with a separate band targeting
- Regulable band speed with the help of a frequency corrector
- Cooling with the help of 1 evaporator 8Kw attached on the existing central coolong
- Temperature regulation with the help of a digital thermostat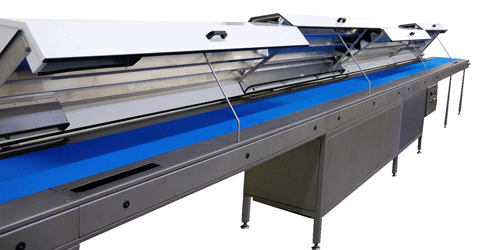 ---
Belgian Chocolates Technology
Slachthuisstraat 30 bus 11
B-2300 Turnhout
Belgium
'Tel: 0032(0)14 / 61 98 05
7Fax: 0032(0)14 / 61 04 50
; www.bctnv.be
---