Machines for the chocolate processing and feeding industry

Back to continue tempering
---
Continue-temperings are built in with a capacity of 2 x 500kg/h. with one mixingcilinder and a stock barge of +/- 25kg. The machine exists from 2 independent circuits with each its own coolinggroup.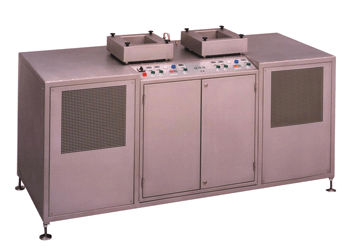 Each circuit has its own chocolate pump, temperingcilinder, heating and coolinggroup. From the stock bucket the chocolate pump pumps chocolate by the temperingcilinder, where these tempering become to the established temperature. The regulation of the temperature are sent by PLC, so that an extremely precise regulation is obtained.
Afterwards the termination of the two temperingcilinders comes in one mixingcilinder that chocolate mixes and brings on the correct temperature. Tha water temperature of these mixingcilinder can be established separately so that it becomes the exact temperature. The chocolate termination with tempered chocolate is himself on top next, beside the stock bucket. The teperatures of the chocolate piping and the mixingcilinder are establish separately.
This water circuit can be also used for connecting chocolate piping of the tempered chocolate to the consumer. The machine has been manufactured entirely from stainless steel. The service happens by touch-screen and PLC.
---
Belgian Chocolates Technology
Slachthuisstraat 30 bus 11
B-2300 Turnhout
Belgium
'Tel: 0032(0)14 / 61 98 05
7Fax: 0032(0)14 / 61 04 50
; www.bctnv.be
---